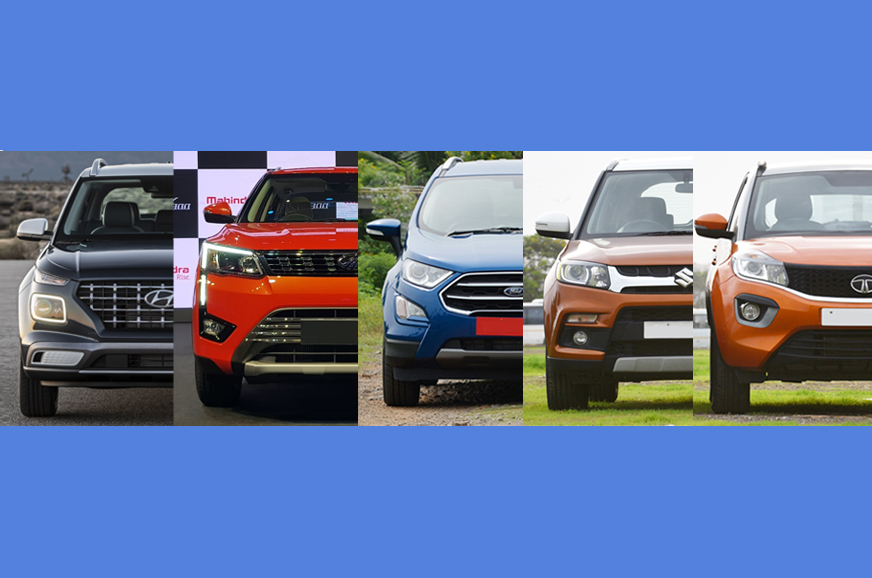 18th Apr 2019 10:47 am
When it launches on May 21, the Venue will take on compact SUVs in India, like the Maruti Suzuki Vitara Brezza, Mahindra XUV300, Ford EcoSport and Tata Nexon. We compare them on paper.
Hyundai has officially revealed most of the important details regarding its new compact SUV, the Venue, barring its variant break-up and price. Based on the information revealed and estimated prices for the Hyundai Venue, it will go head-on against the Maruti Suzuki Vitara Brezza, Mahindra XUV300, Ford EcoSport and Tata Nexon. We've brought all five compact SUVs together, albeit on paper, to find out if the Venue makes a compelling case for itself.
Dimensions
Considering all the models here are sub-four-metre SUVs, there's isn't much difference in their lengths. In terms of overall size, the Venue is on the smaller side – the EcoSport is the only one that's slightly narrower, the Nexon's wheelbase is 2mm less and the Hyundai is also the shortest model of the lot by a 17mm margin. The XUV300 remains the segment-leader in this department.
Hyundai Venue vs rivals: Dimensions
Venue
XUV300
EcoSport
Brezza
Nexon
Length
3995mm
3995mm
3998mm
3995mm
3994mm
Width
1770mm
1821mm
1765mm
1790mm
1811mm
Height
1590mm
1617mm
1647mm
1640mm
1607mm
Wheelbase
2500mm
2600mm
2519mm
2500mm
2498mm
Engines and gearboxes
Like the Ford EcoSport, the Hyundai Venue comes with three – two petrol and one diesel – engine options, while the Vitara Brezza has a single diesel motor, for now. In terms of petrol engine outputs, the Venue's smaller 83hp motor is has the lowest figures here, although its 1.0-litre turbo-petrol mill has the second-highest outputs – the motor's 120hp figure falls 5hp short of the EcoSport's while the Venue turbo-petrol's 172Nm torque stat is about 28Nm less than the XUV300's. The Tata Nexon petrol maintains the middle ground with healthy amounts of power and torque. As we had reported recently, Maruti Suzuki is working on bringing a Vitara Brezza with the Ciaz's 105hp/138Nm, 1.5-litre K15B petrol engine, which should provide the Maruti with more oomph. However, even with the new engine, the Brezza will be far from best-in-class.
Hyundai Venue vs rivals: Petrol engines
Venue
XUV300
EcoSport
Brezza
Nexon
Displacement
1.2-litre/1.0-litre
1.2-litre
1.5-litre/1.0-litre
–
1.2-litre
Type
4-cyl/3-cyl turbo
3-cyl turbo
4-cyl/3-cyl turbo
–
3-cyl turbo
Power
83hp/120hp
110hp
123hp/125hp
–
110hp
Torque
115Nm/172Nm
200Nm
150Nm/170Nm
–
170Nm
Manual gearbox
5-speed/6-speed
6-speed
5-speed/6-speed
–
6-speed
Automatic gearbox
7-speed dual-clutch
–
6-speed torque convertor
–
6-speed AMT
Compared to its competition, the Hyundai Venue diesel engine's power output is equal to the smaller (and soon to be phased out) 1.3-litre engine that's in the Maruti Suzuki, though the Hyundai's torque output – while not class-leading by any margin – is better than the Ford's and Maruti's. The XUV300 has the most powerful diesel engine, and is followed by the Tata Nexon. A point to note: The Brezza will be upgraded with Maruti's new 1.5-litre DDiS 225 diesel engine in the coming months, which will see outputs increase to 95hp and 225Nm of torque.
Hyundai Venue vs rivals: Diesel engines
Venue
XUV300
EcoSport
Brezza
Nexon
Displacement
1.4-litre
1.5-litre
1.5-litre
1.3-litre
1.5-litre
Type
4-cyl turbo
4-cyl turbo
4-cyl turbo
4-cyl turbo
4-cyl turbo
Power
90hp
117hp
100hp
90hp
110hp
Torque
220Nm
300Nm
205Nm
200Nm
260Nm
Manual gearbox
6-speed
6-speed
6-speed
5-speed
6-speed
Automatic gearbox
–
–
–
5-speed AMT
6-speed AMT
Moving to gearbox options, a USP of the Venue is that it gets a 7-speed dual-clutch automatic, but only with the 1.0-litre petrol engine. The Hyundai and Ford 1.0-litre engines also get a 6-speed manual. The EcoSport 1.5 petrol and Tata Nexon petrol have 6-speed torque convertor and AMT gearboxes, respectively. For now, the Maruti Brezza and Tata Nexon diesels have the advantage here as both have an AMT option, though Mahindra will introduce a diesel-AMT combination on the XUV300 at a later date.
Price
There is no doubt that Hyundai will position the Venue against the more expensive Mahindra XUV300 and Ford EcoSport rather than the more affordable Maruti Suzuki Vitara Brezza and Tata Nexon. Based on its estimated ex-showroom price and engine-gearbox options, the Hyundai Venue should make for a viable alternative to the Mahindra and Ford compact SUVs. However, Hyundai Venue prices (which will be revealed on May 21) and a full road test, along with a proper comparison, will be necessary to see if the Korean brand can overtake our pick of the current crop of compact SUVs – the Mahindra XUV300.
Hyundai Venue vs rivals: Prices (ex-showroom, Delhi)
Venue
XUV300*
EcoSport
Brezza
Nexon
Petrol
Rs 8-11 lakh (est.)
Rs 7.90-11.44 lakh
Rs 7.82-11.37 lakh
–
Rs 6.36-9.89 lakh
Diesel
Rs 9-12 lakh (est.)
Rs 8.49-11.99 lakh
Rs 8.42-11.89 lakh
Rs 7.67-10.64 lakh
Rs 7.40-10.80 lakh
(*Prices for the Mahindra XUV300 are ex-showroom pan-India)