29th Jul 2019 5:22 pm
Formula One may be a sport driven by technology. But success and failure is ultimately down to the people behind the computer screens. We talk to some of the 1,000+ people whose passion is the key ingredient in making the Renault R.S.19 the fastest race car it can be.
Round and round the black-and-yellow cars go, race after race, finely-honed and sophisticated instruments of speed. The fastest race cars in the world, they are an exercise in technology pushed to its limits.
Complex hybrid power units whistle and pop, churning out over 1,014hp, sensors log every whisper of wind sweeping along the car's carefully sculpted lines, supercomputers calculate the quickest way from lights out to chequered flag, and predictive analytics works out the best strategy.
Still, as on the cutting edge of the technology envelope as it is, no amount of digital wizardry on its own can make the Renault F1 Team's pair of R.S.19 Formula One cars faster.
As crucial as the technological piece of the puzzle is to on-track performance, ultimately it is down to the team's employees, at the track and back at its factories in Enstone and Viry-Châtillon, to make the R.S.19 the fastest Formula One car it can be.
After all, every team in modern-day Formula One is more or less at par, technologically. As a result, having the right people can often make the difference between victory and defeat.
Making that difference for Renault are more than 700 people in Enstone working on the chassis and approximately 300 more in Viry dedicated to the power units. They fulfil various roles. Some travel to the races, some are based at the technical facilities. Some are new recruits, others seasoned veterans.
A lot of the people that make up the team work in factory-based roles.
Sights set squarely on victory and with defeat not an option, their energies are focused on one singular goal – build the Renault F1 Team back up into a championship challenging force.
Finding the people who have the talent and dedication to make that possible is the responsibility of Alastair Pemberton.
He is the team's HR Talent Manager, who was recruited 18 months ago. The fact that the Renault F1 Team saw it fit to create a specific role dedicated to looking for new talent, in itself underlines how serious and passionate it is about hiring the right people with the right team spirit.
Alastair Pemberton, HR Talent Manager, Renault F1 Team.
"My role is… quite broad," explains Alastair Pemberton, who previously worked in food safety, in an interview with Autocar India in his office at the team's Enstone base. "It includes the recruitment of people within the team and, once people are in the business, to make sure we've got the processes in place to ensure we make it the best possible place to work and be. We want to keep a sense of identity, to attract people who want to work here, and go above and beyond for the team. We want to see, and then foster, competitive spirit."
Retaining talented colleagues is, in some ways, both easier and more difficult than hiring fresh recruits.
Renault may only have returned to the sport in a full-fledged works capacity in 2016. But the team they acquired began life in 1981 as Toleman, the same outfit with which a young Ayrton Senna made his famous Formula One debut.
Having initially operated out of a factory in Witney, Oxfordshire, it moved to its current Enstone
base under Benetton ownership in the early 1990s.
The fourth-oldest team on the grid, after Ferrari, McLaren and Williams, it has won seven drivers' and constructors' championships combined, first as Benetton and then again as Renault F1 Team. Renault engines have secured 12 constructors' titles in total, thanks to back-to-back successes with Williams and Red Bull Racing.
The success and history means employees feel a sense of pride working for Renault, and the depth of championship-winning talent and expertise the team possesses is enviable.
Whether at the track or at the factory, team members take a great sense of pride in working for the Renault F1 Team.
Why? "My whole theory behind it is making you feel as though you're invested in it," says Alastair Pemberton. "It's about passion to become the best you possibly can be, being recognised for the work that you do and continually doing interesting things or interesting projects, constantly being challenged and working as a team to collectively perform at the highest level. Alongside that is making sure that the environment that you work in is as pleasant as it possibly can be."
"There are different cultures within different teams and I think we pride ourselves on a culture that is not hierarchical. It's friendly, welcoming," he says.
Pemberton speaks of the 'Team Spirit', a collective, underdog fighting spirit that has developed out of a feeling that the team has always had the odds stacked against it, such as fighting and beating better-funded rivals on track.
This has helped the team weather several storms and fostered a sense of fierce loyalty, with several of the team's employees having worked there for over 20 years. Sporting Director Alan Permane is just one such example.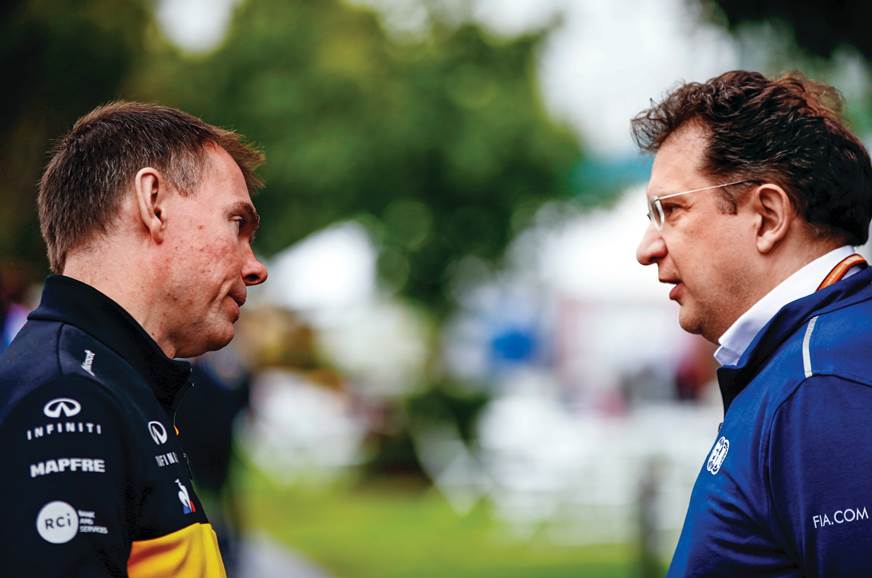 Alan Permane, Renault F1 Team's Sporting Director, has worked at Enstone for over 30 years.
"People often ask what is it about this team," says Alan Permane, who joined the team
in 1989 when it was under Benetton ownership.
"It's not an easy question to answer, especially for someone like me who hasn't actually been to another team."
"I think it's a team of racers, the people have a strong bond together. It's very difficult to know what makes that strong.
"Because through very different management, team-ownership – from Benetton, to Renault, to Lotus, then back to Renault — it's always been a strong team. It's a good team, it's a lovely place to work."
The underdog mentality may have served it well in its other guises but Alastair Pemberton says that the squad is not a small team anymore but a full-blown manufacturer works squad.
It now has the infrastructure of a top team, with a larger factory and state-of-the-art equipment. Where it had about 450 people when Renault took over the team in 2016, it now has more than 720 at Enstone alone.
Not all 1,000 members of the team travel to races. Those that do, form the race team.
While the most aggressive phase of its growth is now behind it, the team is still hiring fresh talent and Alan Permane says the goal is to end the year with more employees than it had at the start. There is no dearth of applications. For instance, the team received 12,000 applications for advertised positions alone, last year.
While the team's past history of success and championship ambitions under Renault ownership do play a role, its reputation as a meritocratic employer is also a big reason why so many prospective candidates want to work there.
The team is known for giving talented young engineers, designers or mechanics the breaks they deserve, whether that's work experience for a college student or promotions for full-time staffers.
It's no wonder then, that the team has a diverse, multi-cultural and multi-national workforce, with people from Europe, South America, Australia, Bahrain and even India working at Enstone.
Take Yash Pathare, for instance. Originally from Mumbai, he is a strategy engineer who is a key part of Renault's race operations team. Yash Pathare joined the team in 2016, having previously worked for Toyota, Caterham and Manor.
Yash Pathare, from Mumbai, is a key part of Renault F1's race strategy team.
He completed his school and college education in Mumbai, earning a degree in mechanical engineering.
With his sights firmly set on Formula One, he moved to the United Kingdom for a one-year post-graduate Masters degree. He was part of his University's Formula Student team, which stood him in good stead, and he landed a full-time job in Formula One as soon as he graduated.
"Yash works in our race strategy department and is very successful," says Alan Permane.
A massive Renault and Fernando Alonso fan growing up during the mid-2000s, today Yash Pathare gets to work with some of the same people he cheered on from his living room all those years ago.
When he goes in to work every morning, he walks past Alonso's 2005 championship-winning Renault, which, along with the trophies it won, is on display at the Enstone factory's reception area.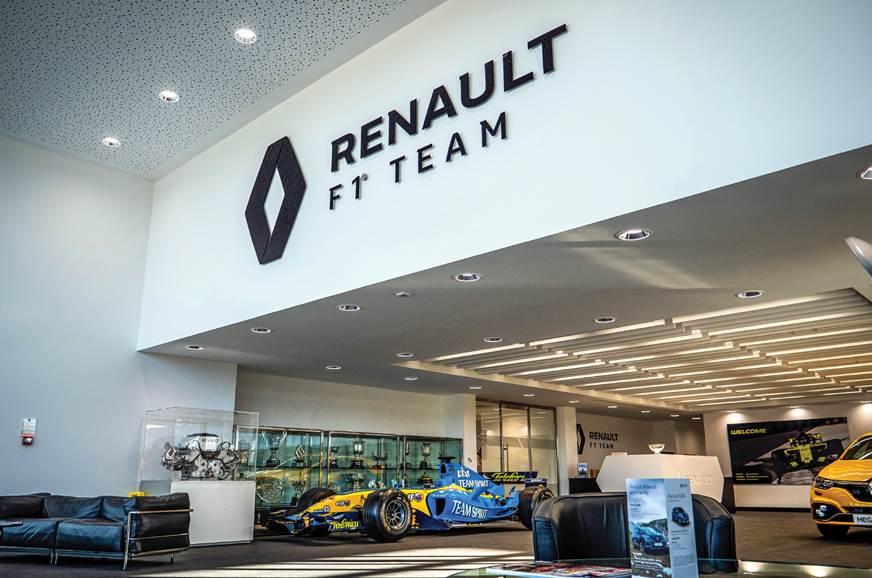 Fernando Alonso's 2005 championship winning car greets visitors walking into the team's Enstone factory.
"It's quite a proud moment coming in here and experiencing what the team's about," he says.
"There's many, many people here who have been involved in those two championships (2005, 2006) and you tend to get the history of the place when you walk in and you see these guys.
"The commitment and the dedication you see here is, I think, second to none. But at the end of the day when you walk in to do the job, you are completely focused on the job itself."
How to get started though?
"The first thing I would suggest that you do is look to bump up your CV so that you're doing everything in terms of the student side of racing that you possibly can," says Alastair Pemberton.
"What you have to do is show that you're truly passionate about being a part of a team like ours. You always stand out when you've volunteered and shown that you're serious."
"I would look at an individual that has been volunteering at race weekends, has gained some form of experience, with much more favourability than someone that's just got a degree, and that's it."
Alan Permane agrees. "We've had people from all over the world join the team. There's no barrier to race or culture. We want good people, we want people that are committed to perform at the highest level and enjoy a challenge."
ROAD TO F1
Yash Pathare, Strategy Engineer, Renault F1 Team.
"You have to be absolutely passionate to be able to work in this field. You have to be driven, determined. There is no one route to get into F1. In my case, I had a very single objective. I knew I wanted to be in Formula One. So after my degree I sort of veered off in that direction to try and do everything that I could on my side to end up here. There is no magic formula for it. You have to work hard. You have to try and get as much experience as you can and grab the opportunities whenever they come your way. I thought studying in the UK was my best chance. But I remember those days. It was just flat-out and a lot of hard work. And then I suppose you need to get that lucky break. I would absolutely suggest to anyone who's looking to get into Formula One to try and get as much track-side experience as they can. Go and help out with any form of motorsport; because at the end of the day, the basics are still the same."