2nd Aug 2019 6:00 am
We welcome the new Huracan Evo with a few quick laps at the Madras Motor Race Track.
What is it?
Yes, it's only a mid-life update, and, yes, it's got the expected nip and tuck. But this is a supercar and a Lamborghini no less, so a facelift in this part of the world is a proper evolution. Welcome to the Huracan Evo.
Improved aero, a more powerful engine borrowed from the Huracan Performante, a new and intuitive electronic brain and lots of chassis updates including rear-wheel steering. Oh, and yes, this being the digital age and all, there's a touchscreen with your usual connectivity bits thrown in too, you know, for when you're just trotting around town. But again, this is a Lambo, so the screen here also has a cool telemetry display for fine-tuning your track day driving and it's got loads of data from the car's multiple sensors.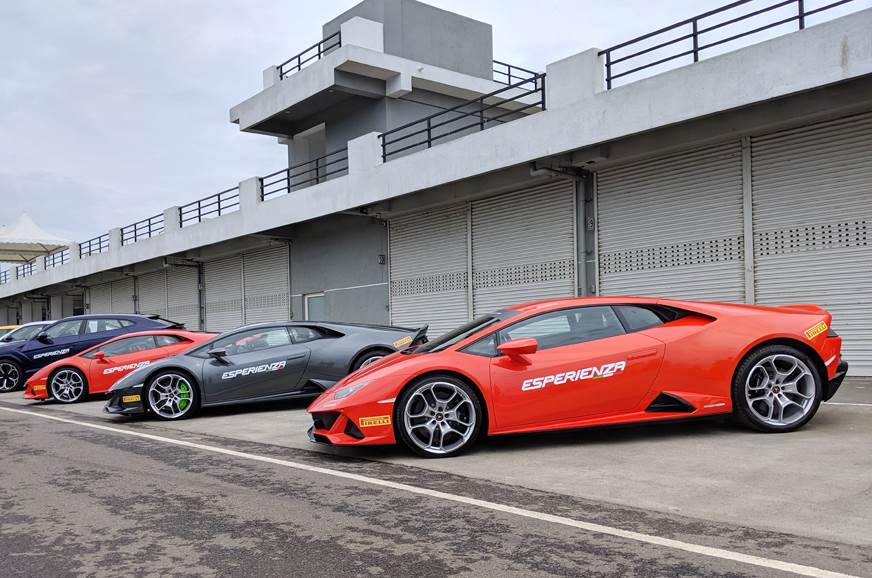 From the outside, the keen-eyed will notice the new front bumpers larger air intakes, the newly designed alloys, new side air intakes and the fact that the exhaust pipes have been moved higher up with the number plate placed between them. What will be missed is that all this aero tweaking has also been done to the underbody, and the result is improved downforce and aero efficiency that's five times more than the first Huracan.
What's it like to drive?
We do have a great F1 track in Noida but instead, Lamborghini opted for the smaller and tighter Madras Motor Race Track in Chennai. I'm pretty sure this to highlight the Evo's new chassis control system – the Lamborghini Dinamica Veicolo Integrata (LDVI). After all, the naturally aspirated V10 doesn't have to anything to prove; the 5.2-litre unit is from the mighty Performante, complete with titanium intake valves and a lightweight exhaust system, and it brings 640 naturally aspirated horses. The unit propels the Evo from 0-100kph in a mere 2.9sec, pushes it to a top speed of over 325kph and it barks and screams as it goes along. And keeping pace with the rapidly rising tacho is the dual-clutch gearbox which shifts quickly, propelling you forward with ease. It's all simply magical.
Now the chassis, on the other hand, does have a point to prove. The earlier Huracan was a bit of a bull and needed quite the hand to tame it, with the Evo, however, Lamborghini is trying to make the limits of performance easier to access. The company says that with LDVI, the car not only reacts quickly to driver input but can also pre-empt certain driver behaviour and adjust accordingly. Does it work? Yes.
Our pace car is a Lambo Urus and it is driven by the company's resident racer Armaan Ebrahim. Both he and the Urus are extremely capable of a good turn of speed, and while he didn't go hell for leather, he indulged us with some pretty decent pace. On the handful of laps we had, the Evo felt fast and nimble, darting from corner to corner with ease. The turn-in is nice and sharp and the tight confines of the MMRT aren't a bother with both Sport and Corsa (Track) mode neatly balancing the chassis and keeping things very predictable. Of course, also playing an equally big part here is the rear-wheel steering system and the torque vectoring.
'Corsa' is a full track mode with manual shifting, while Sport keeps the gearbox in auto and still allows you a fair degree of slip before the electronics step in to tidy things up. Pushing hard in a bid to keep up, I get the tail out, and what's nice is that the system comes in quite unobtrusively. LDVI does a really fantastic job of letting you drive this car hard, and just how good is amplified on our second stint when I mistakenly put the car in Strada (Street) mode and I'm all over the place, losing pace to the cars ahead rapidly. The handling is all soft, there's plenty of roll and soon I'm four to five corners behind the rest. And, of course, the powertrain is not responsive either. Is there something amiss with this particular car or is Armaan pushing harder? Once I realise my error and am done kicking myself, I can only doff my hat to the LDVI's influence on the Evo's track behaviour; the difference between Strada and the other modes is quite vast. As for the street, we didn't drive it there, but judging by the extent of the body roll and softness in 'Strada', it only bodes well for a very useable car for everyday roads too.
So does all of this electronic wizardry take away that absolutely raw, will-kill-you-if-you-misbehave supercar performance? Technically, yes. It's a lot more sterile an environment than before, but make no mistake, you will be punished for something stupid (like I was), and being able to reach the limits of its performance is something I feel most will happily welcome.
Should I buy one?
Priced at Rs 3.43 crore (ex-showroom), the Huracan Evo costs just about Rs 30 lakh over its predecessor, which if you gather it all in, comes off as a pretty good buy. Yes, there will be a few who may not like the extent of all the electronic aids but there are far more who probably will.
Like the raging bull adorning its bodywork, Lamborghinis have not always been easy to drive or live with and extracting fine footwork on a racetrack needs some really fancy footwork from behind the wheel as well – the likes of which F1 greats deliver.
Of course, the Huracan Evo is still typically Lambo with its in-your-face styling and there's all the foot-stomping, mad-charging performance from the engine, along with all the howling and screaming too. But with the new-found chassis balance and, dare I say it, finesse, it's now far easier to exploit around a track. So in the Huracan Evo then, the raging bull has learned to dance.